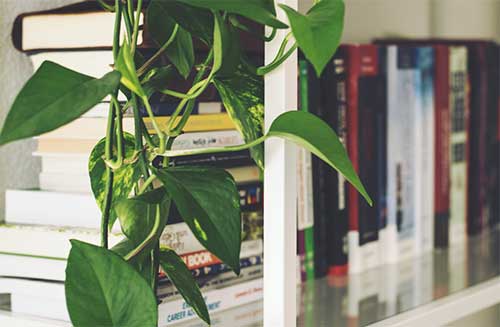 Bookshelves are certainly the most convenient and traditional way to store books. But bookshelves aren't always practical, and sometimes they don't adequately showcase special books like you may want to. Here are five great ways to display books without a bookshelf.
5 Ways to Display Books Without a Bookshelf
1. Stow Books in Pretty Baskets
Baskets make any room look cozier. Invest in one or two pretty square or rectangular baskets and place them near a seating area. Then stock them with your favorite books. When the mood to read strikes, all you need to do is reach down and pull one out.
2. Make Coffee Table Centerpieces
You may not want to take up your entire coffee table with a spread of large books. Instead, stack the most impressive books in your collection to make a tower and top it with a paperweight, shell or another decorative item.
3. Add Height to Table Lamps
Place a stack of same-size books beneath the base of a table lamp near a favorite reading area. Choose books that you've already read so you don't need to disrupt the stack when you want to read.
4. Store Books Inside Ottoman
Purchase a storage ottoman with a hinged lid. Stock it with books that you want to keep but not necessarily display. This is a great way to add a functional piece of furniture to your Flagstaff apartment without sacrificing space for book storage.
5. Emphasize Bowls of Fruit
If you have favorite cookbooks that you refer to on a regular basis, why not keep them at your fingertips while you cook? Make a stack of cookbooks and top it with a bowl of fresh fruit for display on your kitchen countertop.
Even if you aren't an avid reader, these five ideas for displaying books can be used to add warmth to your apartments in Flagstaff. To view available floor plans in person, please contact us today.